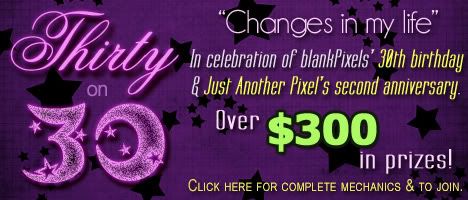 I am a CONTEST ADDICT, ever since I started BLOGGING.
So, here I am again, joining BlankPixel's blog contest for the awesome and many prizes that are up for grabs (crossing my fingers that I will win something).
Happy Birthday Mhel.

CONTEST SPONSORS:
Primary Sponsors

● Everything Nice! ● News Break Online ● Fat Girl No More ● Written by Mys ●
● My Thoughts, My Heart, My Turf ● ZoWanderer ● Just the Tip of an IceBerg ●
● Just About Anything ● Blogger Manila ● Dress Up Your Blogs ● Pinay Mom ●
● Certified Foodies ● Pinay Online Money Maker ● Pinay Reviewer ●

Secondary Sponsors

● Georyl: Blogging with my Heart ● Pop Ups of My Mind ● Blog Tactic ● Grace in Creative Life ●

General Sponsors

● Make Money Online and Beyond ● One Proud Momma ● Lover Mushroom ● Plate and Me ● Paula's Home ● Make More Money Online ● The Miscellaneous Me ● Here, There and Everywhere ● Travels and Explorations ● Musings of Life ● Kharen's Corner ● It's Kha ● Noypistuff ● Jennyholic, Confession of an Addict ● Deej Speaks ● Techie Things ● Cups and Lowercase ● Live for Live ● Experience of a Super Mom ● Sharing my Thoughts ● Yashiro's Journal ● Table for Five ● Internet Cafe Blog ● blankPixels – The Geek Side ●

Oh, by the way, I am one of the sponsors too through my ZoWanderer blog site.